Fresh figures from China's State Electricity Regulatory Commission (SERC) shows stagnation in the 2012 deployment of renewable energy in China. According to SERC, 15 GW of hydro power,  13 GW of wind power and 1 GW of solar power were established in 2012. These figures are less than the similar figures for 2011 for all three technologies.
The stagnation in the annual new installed capacity of wind power and solar power underline the serious and deep crisis for the Chinese RE industry. Both the wind industry and the solar industry are suffering from lack of orders and huge mismatch between production capacity and market demand.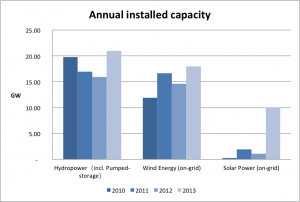 NEA's recent announcement of ambitions for 2013 aims to break the trend and to reestablish old growth trends. As shown in the figure comparing the annual installed capacity in 2010, 2011 and 2012 with the NEA ambitions for 2013: More hydro, more wind, and 10 times more solar!