Curtailed wind power gives record loss for wind power producers in 2012. Recent estimates reveals that 20 TWh or between 20 and 30 percent of the total Chinese wind power production was curtailed in 2012, according to Qin Haiyan, secretary general of the Chinese Wind Energy Association as cited in Windpower Monthly. The curtailed electricity has the value of CNY 10 billion, and the producers have not been compensated for the loss. The curtailed electricity could lower the local and global pollution and for the society as a whole it would be cheaper to curtail the coal fired power plants instead of the wind farms. To put it simple: Curtailed wind power = more pollution + more costs + less incentives for new wind power.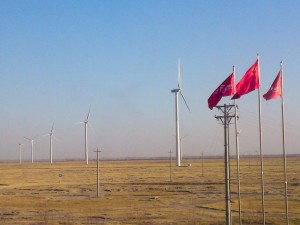 The large amount of curtailed wind power is in my opinion the biggest obstacle for the Chinese government's ambitious plan for wind power deployment. It is difficult for wind power developers to justify investments in new wind farms if you know that up to 40% of the annual production will not be sold. And if you are forced to establish new wind farms due to quota system or similar, you will tend to invest in cheap wind turbines with low efficiency, since high efficiency will be punished by even more curtailment.
So it is absolutely necessary to improve the situation for the wind farms quickly in order to get the benefits from wind power and encourage more investments.
Then what should be done? Well in principle the solution is straight forward: The electricity system must be more flexible and regard wind power (and solar PV) as an integrated part of the system – not as an add-on to the thermal system. Today the thermal power plants have no or few  economic incentives for being flexible, since the income is almost solely depending on sale of electricity. Also the dispatch centres should have better possibilities and incentives for a more dynamic use of interconnectors to neighboring areas. When the economic incentives are in place the technical obstacles would soon disappear – all experiences from e.g. Europe show this.
In practice it might not be as simple. It is alway difficult to change the division of benefits and costs between different stakeholders and the thermal power plants would potential have difficulties in recovering investments if they have to cut down on the number of hour they can produce during the year. But if the Chinese government want to fulfill it's ambitions on renewable energy, a solution must be found quickly. My guess is, that this issue is on top of the agenda for the NEA this year.
PS: The picture is from a large wind farm in the North West of Jilin, one of the provinces with most curtailment.