New consolidated data for RE now available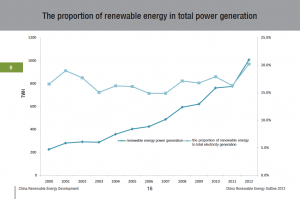 Despite a impressive growth in the RE capacity in China, it has been difficult for renewable energy to gain a significant share of the total electricity production. For the period 2000 to 2010 the percentage has been closer to 15% than to 20% in most years, hardly keeping pace with the high growth rates in electricity consumption. However, in 2012 the share passed the 20% line and reached 20.2%, mainly due to and increase in hydro power and wind power.
A new publication from China National Renewable Energy Centre (CNREC) gives a good overview of the development of renewable energy in China from 2000 to 2012. Previous figures for capacity and production of hydro, wind, solar and biomass has been consolidated and revised in order to give the most accurate picture of the development. Furthermore, more information regarding investments and comparison with other countries and regions are brought up to date. Finally, the leaflet gives an overview of the Chinese RE policy and current RE targets. Download it from CNRECs web site.