China RE Policy research – full speed forward
The impressive list of 2013 activities in China National Renewable Energy Centre illustrates the centre's importance for setting the scene for Chinas future energy system.
CNRECs 2013 annual report is an impressive story about a large number of projects carried out by the team behind the centre. All projects very topically, focusing on policy research and aiming at giving the Chinese policy makers the best available basis for decisions.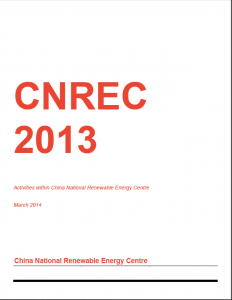 CNREC was launched in early 2012 and the centre has since shown it's value for the deployment of renewable energy in China. The centre's activities comprise policy research, RE industry development, management of large demonstration programs, development of monitoring systems and databases for information about RE development in China and abroad, and last but not least boosting cooperation between China and the international RE community.
Have a look – download the easy-read report here.